Workshop Overview
The workshop will cover the following:
What is Big Data?

Who is interested in Big Data? Who can benefit the most from Big Data, efficiently and effectively?

What are the challenges of using Big Data at the senior level in academic libraries?

How can a roadmap help in extracting big knowledge from Big Data?

Case studies.
Workshop Objectives
By the end of this workshop, participants will be able to:
Recognize the implications of Big Data for their organization.

Appreciate how Big Data can assist their organization.

Develop a roadmap for addressing key Big Data challenges.
Workshop Language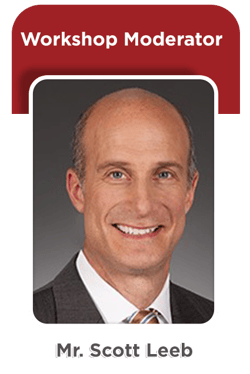 Scott Leeb is a senior consultant with Iknow, a leading international consulting firm specializing in knowledge management.

He has responsibility for the Big Data and Analytics practice, where his clients have included US and foreign governments.

Scott's experience stems from his leading the knowledge management/business intelligence functions of four Fortune 500 companies and a leading international philanthropic organization.

His areas of expertise include data visualization, statistical and quantitative analysis, and data mining.

Scott has spoken in Europe, Asia, Africa, Australia, and North and South America on a wide range of topics, including big data, business intelligence, market intelligence, and strategic and knowledge management.
Workshop Format
The workshop will adopt and utilize the following forms and mechanisms:
Brainstorming

Presentations

Working groups

Training exercises
Targeted Audience
The workshop is suitable for:
Senior-level managers and heads of academic libraries (including directors, chief librarians and deputies)

Teams in charge of strategic planning.
Date and Time
Venue
Workshop Cost
SLA–AGC members:

USD350

.
Non-SLA–AGC members: USD400.

Note:

Includes workshop registration fees.

Does not include SLA–AGC conference registration fees.

Registrants will be responsible for their own accommodation, visa and flight tickets.
Payment Method
Via bank transfer to the following account:

Riyad Bank – Malaz, Riyadh, S.A. – KSA

Account No.: 2860431149901

Riyadh Bank, Saudi Arabia

IBAN: SA63 2000 0002 8604 3114 9901

Swift Code: RIBLSARI

Beneficiary

Name: Arabian Advanced Systems

Email the transfer receipt to: info@naseejacademy.org

OR cash payment upon arrival at the workshop venue.
.